About me
I work as a fitness trainer at the gym for over 7 years. I see the mistakes of most beginners and would like to help prevent them.
Here you are absolutely free to obtain any necessary information in order to train effectively from the first day. To obtain the result, which is so important for motivation. Become better, stronger and more beautiful. To be healthy and young for many years.
On this website you will find nutrition tips, whatever rid of excess weight or want to gain weight. View related fitness equipment.

And the main thing here will be to give a set of exercises, which will be able to perform each. After all, it'll only take 20 minutes - it is possible to keep yourself in shape.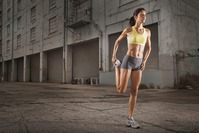 I will be glad your questions - write to me by e-mail or social network.